School Council
2017- 2018
Thank you for visiting our web page.
We recently held elections to decide who would become the school council representative for each class. Classes voted for their favourite candidate. Congratulations to the children who have been selected!
Meet the new School Council!
Class 1 - Robert, Class 2 - Tyler, Class 3 - Lauren, Class 4 - Riley
Class 5 - Louie, Class 6 - Olivia, Class 7 - Raveena, Class 8 - Evie
Class 9 - Kai, Class 10 - Phoebe, Class 11 - Archie, Class 12 - Lily CB
Term 1
At our first meeting we all introduced ourselves. We had two important things to discuss. The PTFA have asked us what we would like to make our playtimes even better. We came up with amazing ideas like swimming pools and trampolines! We decided to ask our classes and will bring more ideas to our next meeting. The second point we discussed was Ipads. At the moment teachers and TAs have Ipads for taking photos of children working and keeping up-to-date with assessments. We talked about whether we thought it would be useful for the children to have them. After sharing ideas about what they could be used for we decided most of us used them at home and didn't want to use them at school too!
Term 2
This term we have continued to work on making playtimes more fun. We put a suggestions box in the dinner hall and now have lots more ideas to consider. We have chosen three of the most popular suggestions and will put voting boxes in the dinner hall. Children will be able to vote for their favourite. See the winning vote in the photos above. Everyone loves our new balance boards!
We have been looking at creating a child-friendly safeguarding policy. We have looked at policies from different schools and will devise our own.
Term 3
We had our first meeting of the term today. In assembly Mrs Kotze talked to use about a competition to see which year group could show the best behaviour in the dinner hall. Each day the best behaved tables will receive tokens to go into their year group pot. At the end of the term the year group with the most tokens will win a reward!
We have looked through our child-friendly safeguarding policy and agreed to share it with our classes. Children all took a copy to their teachers to share. Classes were also reminded of our 'Circle of Friends'.
Congratulations to our term 3 winners - Year 2!
They enjoyed their lunchtime party in the hall and a game of 'Pass the Parcel' in their classrooms.
Term 4
At our first meeting this term we decided what reward to offer for great lunchtime behaviour. We all agreed that a treasure hunt would be the best idea. As long as there was a good prize at the end!
We went outside to look at the year one outside area. It has uneven surfaces and needs updating. We decided to write to local businesses to see if they could help us! Fingers crossed!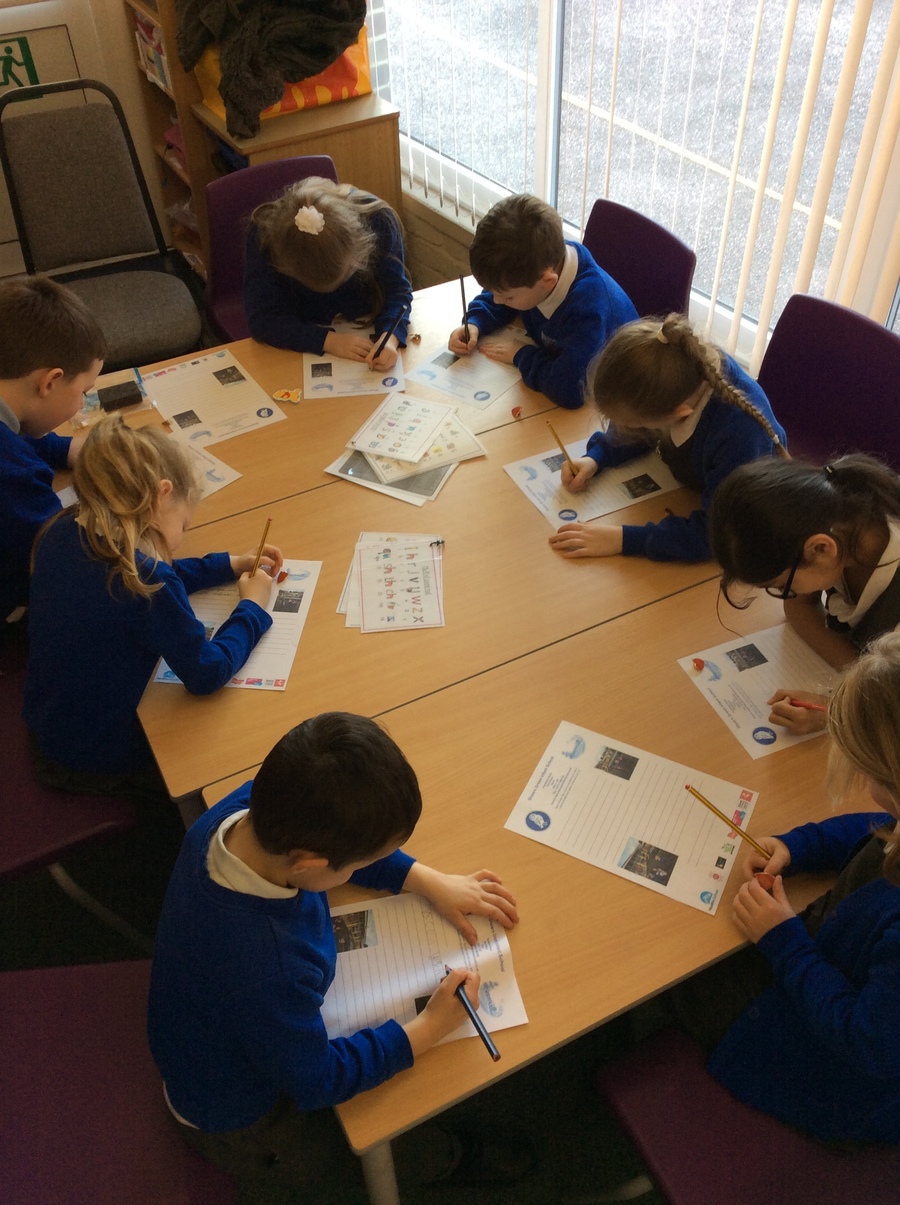 The year R school council met and have decided to take part in a bee competition. KCC are running the competition, in conjunction with the Bumblebee Conservation Trust. The idea is for groups to create a bumblebee garden or hotel. Robert, Tyler, Laruen and Riley all voted to create a bumblebee hotel. They took the competition entry from to Mrs Coleman who runs our forest school. She was very excited!
Term 5
We met today to discuss the upcoming Royal Wedding. We have made a plan to celebrate this special day as a school. After lots of suggestions that girls should all dress up as brides we finally decided that all children will be invited to come to school dressed as wedding guests. We will have a mock wedding in assembly that day and children will take part in lots of wedding related activities. In the afternoon the whole school will have a tea party to finish the celebration. We talked about Prince Harry and Meghan Markle not wanting wedding gifts. They have asked for donations to their charities instead. The school council have decided to make cakes to sell at an after school bake sale to raise money. This money raised will be sent to one of the charities as a wedding gift from our school.