School Council
Thank you for visiting our web page.
We recently held elections to decide who would become the school council representative for each class. Year two children read out their election speeches in assembly and years one and two voted.
Year one children made videos of their election speeches. These were watched and voted on by year one and two children in a further assembly.
The votes have been counted and verified!
Meet the new School Council!
From the top: Class 4 - Rhys, Class 3 - Taylor, Class 2 - Ruby, Class 1 - Lucas
Class 5 - Mae, Class 6 - Layla, Class 7 - Taylor, Class 8 - Evie
Class 9 - Naomi, Class 10 - Jack, Class 11 - Imogen, Class 12 - Jasveer
6.10.16 - At our first meeting we looked at children's designs for a new mural in our hall. We decided to let all of the classes vote on their favourites. We also talked about having more activities out during playtimes in different zoned areas. Special fencing has now been ordered to organise each zone.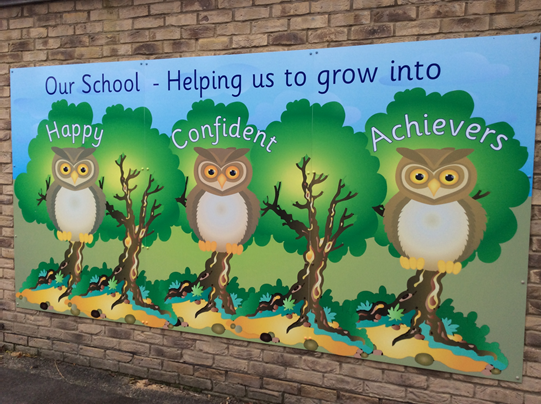 Olivia from class 3 was the winner of our mural competition. Here is her work transformed into a mural. We love it!
20.10.16 - Our second job was to order games for our year group's 'Golden Box'. We had a budget of £25 each to spend. We had lots of fun searching on Amazon!
17.11.16 - Today our school council sorted through all of the games they had ordered. They are now ready for the lucky Disney Team winners to play with on Friday afternoon.
5.1.17 - At our school council meeting today we looked at the new behaviour policy. We talked about the different symbols we will be using and expected behaviour. We also reminded ourselves of the golden rules. Our last job of the day was to start thinking about anti-bullying. Our school has a policy but we decided the children should have their say and create their own policy. We will be working on this at our next meeting.
26.1.17 - Today we talked about the new behaviour policy. Every child fed back their feelings about how the new policy was working. Here are some of the things they said:
'I like getting rainbow stickers.'
'I feel good when I go on the star.'
'I like the stickers because they're bright and colourful.'
'I like that the dinner hall has lunchtime rainbow stickers.'
'It's good to have the chart at lunchtimes too.'
We also added our opinions to the school's anti-bullying policy. We will add it on when we have shared it with the governors.
The school council would like to appoint house captains for each of the Disney teams. The year two children have been looking at the job description and deciding if they would like to apply. Click on the link below to see the kind of person we are looking for!
23.2.17 - We met today and added our input onto the school's behaviour policy. This will be added here once it has been seen by the school governors. Our next job was to discuss the school playground. The PTFA have offered us some money to put towards something new. We came up with ideas such as trampolines, swings and exercise equipment. We will be asking our classes to gather more ideas before taking a vote on our favourite option.
31.3.17 - The school council met to talk about playtimes and how we could make the playground better. We looked at some catalogues and agreed that we would like some blue star benches to sit on. We also decided that we would really like a 'Playpod'. This is a shed containing scarp materials which can be used for imaginary play.
9.5.17 - We met today to meet with Maria from 'Playpod'. She told us all about the scheme and showed us how much it would cost. We nearly fell off our chairs as it was a lot of money! We decided we would need to invite Mrs Pluck, Chair of the PTFA to join us at our next meeting so we could ask her about money. We also decided we would like a @pet Day' to support the PDSA charity. We will hold this next term.
16.5.17 - We were joined at today's meeting by Mrs Pluck. We told her all about our ideas and she said she would talk to her committee about the money!